These requirements cover power ventilators of the roof-and Inline mounted types and duct fans of the straight-through type intended for commercial or industrial use, residential fans intended for heated and conditioned air and for connection to permanently installed wiring systems in accordance with the National Electrical Code, NFPA 70. These requirements also cover dryer exhaust duct power ventilators (DEDPV) for single residential dryers. These requirements cover power ventilators for restaurant exhaust appliances.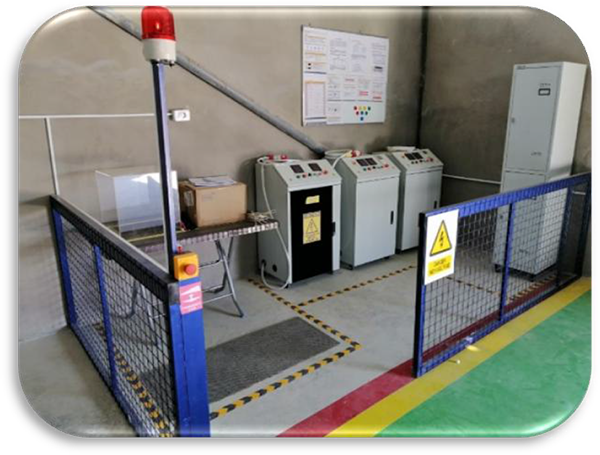 Certified Fans (UL705:2017 Std)
UL705 standard procedure is implemented to Rooftop (down-blast and upblast), Utility SISW Centrifugal & Inline Centrifugal Fans. Several tests are applied, are:
Dielectric test (Hypo-test)
Undervoltage test
Temperature raises test.
Rain test for 4 continuous hours.
Visual test
Strength and Rigidity test
These levels of tests give the accendibility that our power ventilator fans are high quality and trusted products. The quality control team follows the testing procedure product by product not randomly. The third-party Intertek, Arlington – USA has approved INFINAIR ARABIA products and listing it. The ETL listed fans are applicable to 50 Hz / 60 Hz, 1&3 Ph, voltages are (230V, 380V, 400V, 415V & 460V) & power ranges up to 11 kW. All UL705 std fans have the following specifications and use high-quality components:
Ambient: 50°C, duration 55 °C
Totally Enclosed Fan Cooling motors (TEFC)
Insulation Class "F" & IP 55
Motor compatible with VFD.
PTC thermal protection up to 70°C.
Large terminal box to avoid condensation.
Cast Iron motor body.
Aluminum or steel nameplate
Motor cover is provided IP65 (NEMA) protection.
Anti-corrosion body ASTM B117-C2 level
Anti-Spark fan design
IE3 Premium motors efficiency.
Rotating elements made from Aluminum alloys.
Long-life bearing L10 & L50.
High-quality belts and pulleys.
Neat alignment
Comply with vibration std ANSI/AMCA 204-05
Cast Iron pulleys with removable bushes.
Access doors or panels wherever applicable.
Greasing access exposed outside.