INFINAIR ARABIA COMPANY LTD is the first Manufacturer of ventilation fans in The Hashemite Kingdom of Jordan. The company has been founded by expert engineers in Heating, Ventilating, Air Conditioning, and Industrial Fields. Infinair Arabia has acquiring the strength from Infinair Corporation, which was founded in 2003. The location of the Infinair Arabia is very strategic and locates near GCC countries (Saudi Arabia, United Arab Emirate, Oman, Qatar, Kuwait and Bahrain), which will be simplifying the logistics process by road, in other had Aqaba seaport is connecting Jordan with Africa through Egypt, which make Jordan one of the most strategic locations in the core of Middle East and North Africa.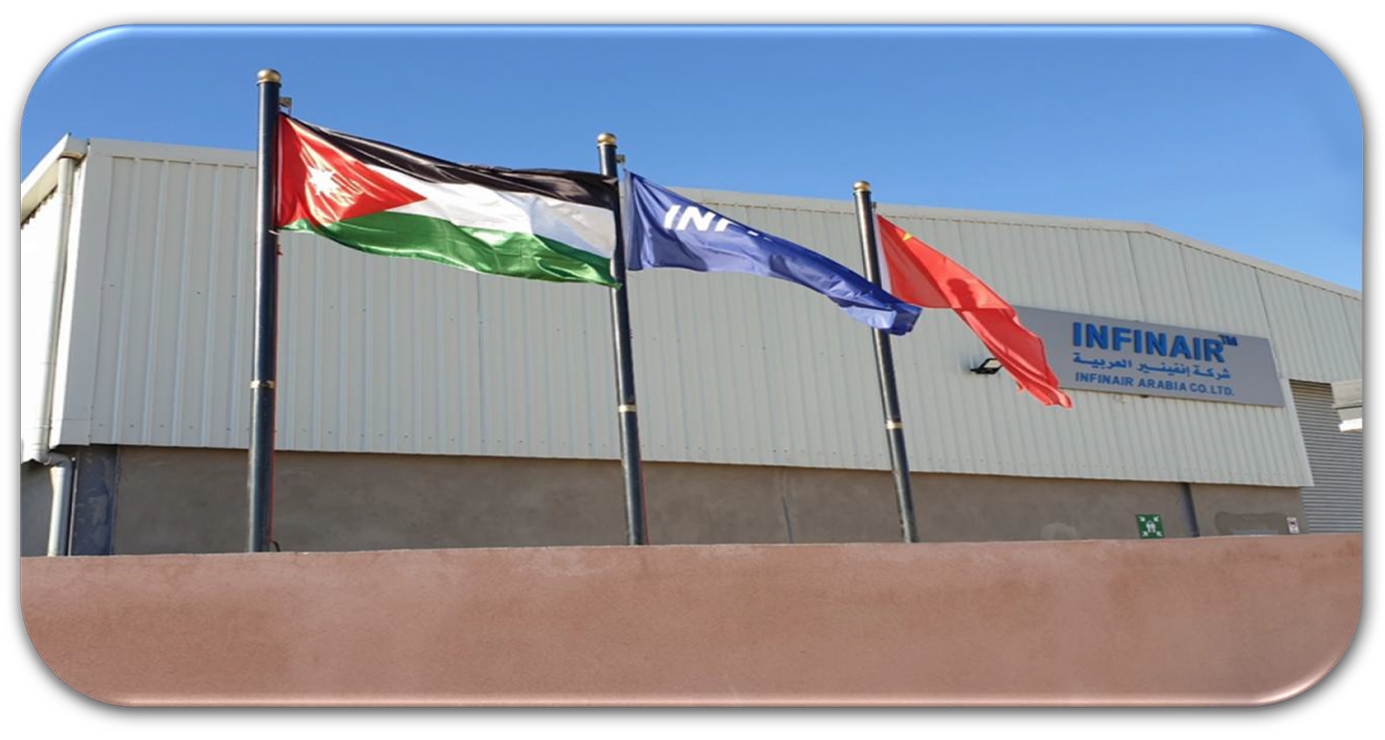 INFINAIR ARABIA locates in a free zone, which gives an advantage for the company to complete all formalities related to cargos inside the free zone, then cargoes can move direct to customers outside Jordan without wasting long time to complete the shipping documents.  INFINAIR ARABIA is producing several kinds of fans locally (Centrifugal, Inline Axial, Air Box, Inline Centrifugal, Tube-Axial, Rooftop Exhaust down and upblast, pressurization fans, extraction smoke fans, Jet, Industrial blowers, parking fans, duct inline fans, Twin Fans and many other ranges of the ventilation fans that meet customer solutions). Engineering Team has worked very hard with International entities to get Accreditations, Listing and Certifications for performance and safety certificates as follows:
AMCA certificates from American Air Movement and Control Association for sound and performance and efficiency (FEI and EFG)
Comply to UL705 standard for Power Ventilators and listed by Intertek, USA.
Comply to Smoke Management EN12101-3:2015 listed by TUV: SUD that equals to
Comply to ATEX applications and fan motors are CE marked. 
ISO-IMS certificates for Quality Management Integration Standards: ISO9001, ISO14001 and
ISO45001 that contributes to high quality production, safety working zones and environment.
All above features are distinguishing INFINAIR ARABIA to be an excellent supplier in the region and first choice for all customers.